Townsville Accommodation, Australia.
»» Choose a resort or hotel in Townsville ««
Holiday accommodation through the Townsville region is usually in plentiful supply. It ranges from top of the range resort style apartment resorts right through to the humble holiday shack and includes everything in between. When looking for holiday accommodation, most people want something that is fully self contained, and really well located with regard to beaches and the ocean font. Holiday activities like swimming pools, water parks, boat ramps and shopping all play a part in helping people choose which holiday destination they choose. Townsville is very lucky, in that the holiday facilities around the city are plentiful and well developed.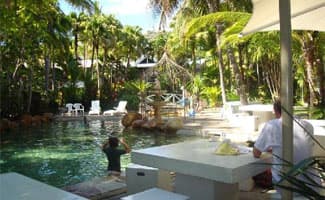 Magnetic Island is Townsville's most popular destination and has plenty of holiday accommodation available. There are lots of holiday homes on the island that are available for short term rental and nearly everything is either on the beachfront or only one street back. Some of the best holiday accommodation here is at the Luxury Mantra One Bright Point resort or the Peppers Blue on Blue resort however there are dozens of holiday homes at Nelly Bay and Horseshoe Bay that are close to great beaches and have other holiday infrastructure like piers for fishing and great restaurants and cafes.
In Townsville's Palmer St precinct which adjoins the CBD there are also a number of places to choose from that provide excellent holiday accommodation. Quest waterfront apartments, Oaks gateway and the Grand Mercure apartments all have top of the range accommodation in apartment style holiday resorts. All are within walking distance of the local dining establishments and are situated on the waterfront on Ross creek and close to the boat ramps and beaches. The Strand is Townsville's other popular holiday location where the holiday accommodation commands ocean views and looks out towards Magnetic Island. Close by are facilities like a great water park, patrolled beaches, stinger nets, swimming pools and piers for fishing. It is hard to imagine a better place to take your family for a holiday.
This website provides full information on all specials and the holiday accommodation resorts in the Townsville region.
Other Townsville Accommodation website links: