Whitsunday Holiday Apartments
»» Click here for information about Whitsundays Holiday Apartments
Whitsunday Holiday Apartments provides resorts that range from family resorts to some of the most luxurious resorts in the world.
The Whitsundays Islands are home to the most popular holiday resorts along the Queensland coast. Some of these resorts are among the icons of Queensland holiday destinations. Only in Queensland would you find such a stunning assortment of holiday apartments to suit every age, taste and budget. Some of the most popular of the Whitsundays holiday apartments include the Hamilton Island "Whitsunday Holiday Apartments", Watersedge resort in Airlie beach, Hayman Island, Mediterranean resorts, The Pinnacles resort apartments, Searene Apatments, and a number of others.
Whitsunday holiday apartments covers a huge range. Close to the Islands such areas as Mackay, Airlie Beach and Proserpine all have a wide range of holiday accommodation to offer. The region is extremely easy to access with three major domestic airports. You can fly direct to the Great Barrier Reef airport on Hamilton Island, Whitsunday airport near Airlie Beach or Mackay airport. All have regular domestic flights from southern capitals.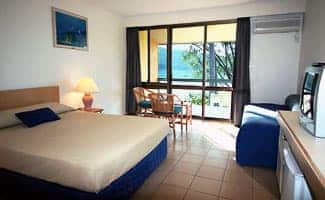 Airlie Beach on the mainland provides a jumping of point for many of the Whitsundays most popular activities. The town is a magnet for international tourists wishing to sail or dive in the area. Many day sailing, extended sailing, bare boat charter and diving or snorkeling trips are available. Some of the leading company's include Oz Adventure sailing, Fantasy Cruises and Barefoot Cruises. Airlie Beach is also home to many apartment style holiday resorts.
Many Whitsunday holiday accommodation packages and Whitsunday holiday specials are available from this website. Don't hesitate to ring our office if you are in Australia on our freecall number 1800 815 378 or email us for all of your Whitsunday holiday apartment enquires.